Dog Supplies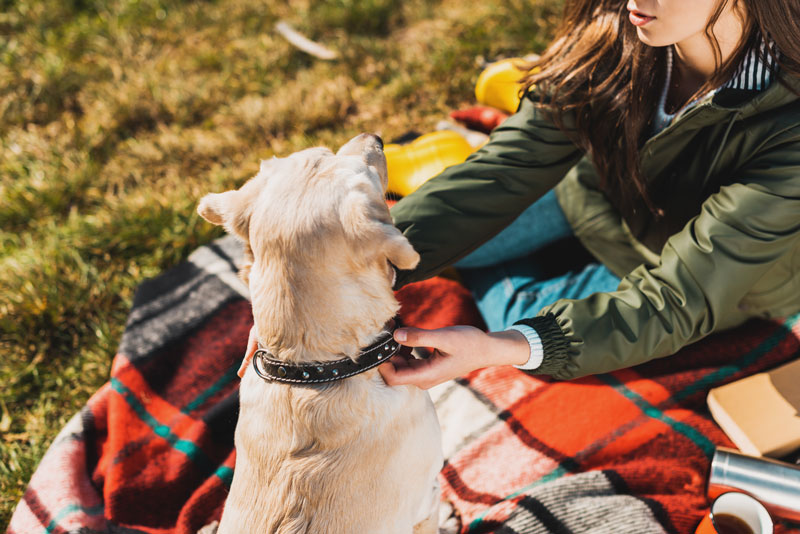 In this day and age, we have the tendency to accessorize anything and everything. If you can wear it, drive it, sail it, or live in it, chances are you can always add a little bling to it.
Your dog should be no exception! Show your canine a little fashion love with a cool and stylish dog collar. Remember, if your pooch is posh, she should don some diamonds.
Luckily, there are numerous options out there for you to adorn your favorite puppy with. Take a look at some of the coolest and most stylish dog collars available today.
These personalized dog collars not only keep your doggy safe by identifying their name and your contact information, but the wide assortment of available colors and options ensures you'll be able to mix and match till your heart is content.
Whether you're out in the park with your pooch or down at the beach for the day, grab a different collar for every occasion!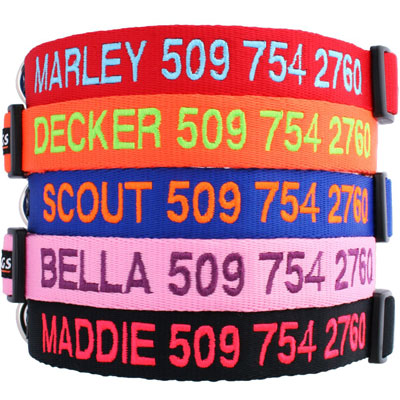 Why it's PAWsome
Durable, high-quality nylon construction.
Stainless steel D-ring and molded plastic release buckle.
Five collar colors and fifteen embroidery thread color options.
Show off your pooch's patriotic side with this snazzy red, white, and blue American flag dog collar. Make every day feel like the Fourth of July! Available in five different sizes, you're sure to find the right sized American collar for your dog!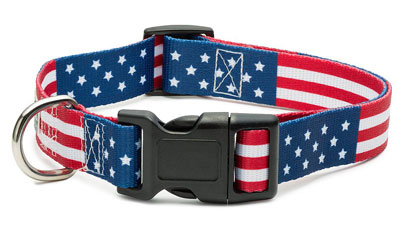 Why it's PAWsome
Sturdy polyester webbing and a zinc alloy D-ring.
Reflective logo keeps your dog safe at night.
Family owned, American company.
Sometimes, simple is better. Refined yet elegant, this personalized dog collar is the perfect marriage of function and bling with high-visibility colors and a truly "stand out" nametag.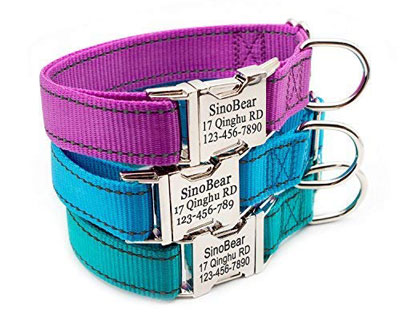 Why it's PAWsome
Laser cut, text on metal buckle will last and last.
Durable, quick release metal buckle enables you to put on and take off your dog's collar quickly.
Reflective threads ensure your dog can be seen well in low-light situations.
With "bling" in the name, you can rest assured your dog will get attention when they wear this very cool and stylish dog collar. Don't let your dog mire in mediocrity. Get noticed!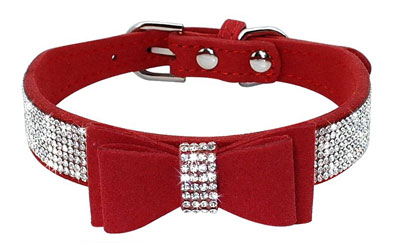 Why it's PAWsome
Made of durable, yet supple PU leather.
"Diamonds" are securely fastened to collar ensuring continued bling for years to come.
Excellent for everything from daily walks to the most prestigious dog shows.
Sometimes, it's hard to get any classier than a bow tie. Make sure your pooch is fit for any evening occasion with this bow tie collar.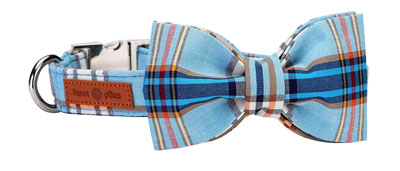 Why it's PAWsome
100% designer cotton fabric in a myriad of colors and styles.
Stainless steel D-ring buckles.
Traditional double bow ties are hand-sewn, easily removable when it's time to wash your dog's collar.
Take advantage of a wealth of pattern options with this Friends Forever dog collar. With an incredible proliferation of colors and styles, you are sure to find something cool and stylish for your canine best friend!
Why it's PAWsome
Polyester webbing stitched to a durable underlayer ensures long-lasting strength.
Designer colors and patterns.
Adorn your colorful collar with seasonal accessories, clip on LED lights, or GPS and ID tags.
Retro-inspired, colorful dog collar that is sure to turn heads on your next walk! You can depend on Frisco for top-quality, high-fashion dog products and supplies.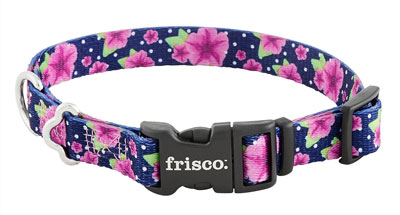 Why it's PAWsome
Lab tested, high-quality polyester webbing.
Easily adjustable so you can be sure to get an exact fit for your pup.
Don't forget, Frisco dog collars come in the same designs are their dog leashes so you can take your mixing and matching skills to the next level!
Big comic book fan? Do you love the Avengers? This is the dog collar for you! Yellow Dog Design's bold comic book print is sure to let your dog's vibrant personality shine.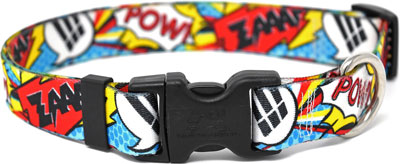 Why it's PAWsome
Constructed with 100% color-fast polyester that is resistant to fading.
Machine washable.
Culled from an original work of art created by Yellow Dog designers, each collar is also made in the USA.
This one's got "Bad to the Bone" written all over it! This OneTigris designed dog collar is perfect for your little "tough" dog. Available in multiple colors and sizes, make sure to bring out the military in your pooch with this cool and stylish dog collar.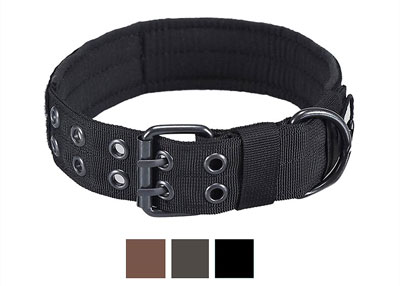 Why it's PAWsome
Soft cushion padding prevents skin irritation and discomfort.
Flat and durable nylon construction is built to last.
Five adjustable points and two parallel holes ensures this collar will stay securely on your dog.
When it comes to cool and stylish, sometimes simplicity is timeless, and there is perhaps no more timeless a dog collar than the Circle T Latigo leather dog collar. Give your dog the gift of style with this incredibly well put together collar.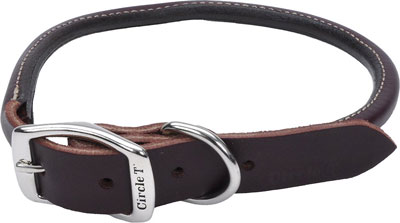 Why it's PAWsome
Handcrafted in the USA using only the most premium leather that's soft, waterproof, and designed to highlight the distinctive character of each collar.
Rounded collar design is perfect for dogs with sensitive skin or long hair.
Designed to last for years, this collar will only become more soft and supple as time goes by.
Conclusion
As you can see, there is no end to the possibilities when it comes to blinging out your dog's collar. Be the envy of all of your friends! Make sure your pooch stands out in the crowd! Show off your dog's extravagant side with a rhinestone encrusted collar or showcase your dog's affinity for the finer things with a prim and proper bow tie collar.
No matter which cool and stylish dog collar you choose, you can rest easy knowing that your dog is the coolest looking dog on your block! Happy choosing!
This post may be sponsored or contain affiliate links, which means we may receive a small commission, at no cost to you, if you make a purchase through a link.