Dog Supplies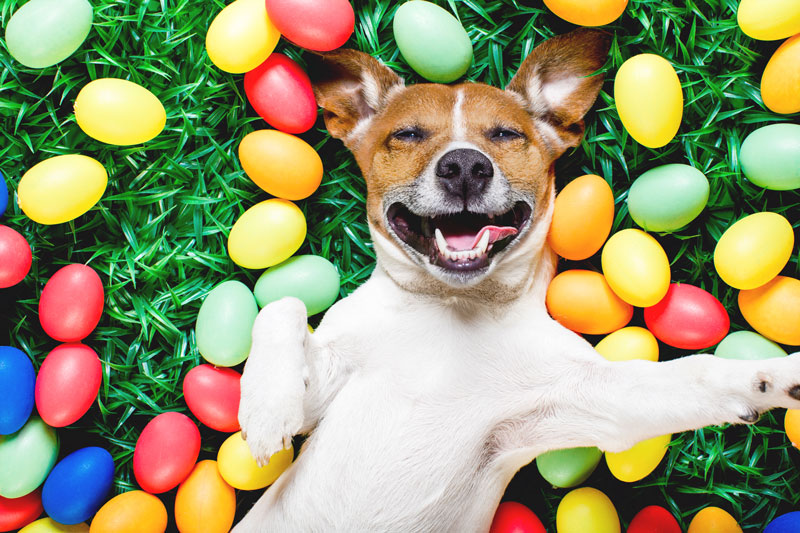 The flowers are blooming, birds are chirping, and butterflies are fluttering. Which means one thing: the Easter Bunny is right around the corner! Help your pup hop into spring with some fresh treats, toys, and other Easter goodies with a dog-friendly Easter basket and some Easter themed activities.
Remember the rules when it comes to your dog's Easter presents: no chocolate, no xylitol products, and be careful with Easter grass. This means keeping your kids' Easter baskets out of reach of curious canines.
To make sure you abide by these rules, the Easter Bunny should stick to presents and games that are dog-safe and fun!
Here are some of our favorite Easter festivities that dogs go crazy for:
Let your dog create some pawsome springtime artwork.
Take your pup to get her picture taken with the Easter Bunny.
Let her enjoy some extra time outside chasing butterflies and birds.
Invite some of her furry friends over, hide treats and new toys around the house, and let them enjoy a pup-tastic 'Easter egg hunt.'
If your dog enjoys dressing up, put her in her springtime best, and arrange for an outdoor photoshoot.
We all know the most iconic Easter activity is diving into the basket. To make sure your dog's Easter basket is safe, use cat grass or fabric instead of plastic Easter grass.
Putting together an Easter basket can be fun and easy, and the sparkle in your dog's eyes is worth the effort. Surprise your best friend with some real tail-wagging presents this Easter!
10 Easter Basket Items Your Dog Will Go Crazy For
KONG never fails to make toys that are durable and desirable to dogs!
This adorable bunny toy is extra tough and extra cute! You won't be able to resist taking pictures of your pup as she finds her new favorite toy tucked in her Easter basket! With a squeaker and minimal filling, this toy is perfect to play gentle tug or fetch with.
Hide-and-Seek is a favorite childhood game, but did you know that dogs love it, too? This ZippyPaws plush with rabbits that burrow into a carrot makes the perfect gift to keep your best friend busy and mentally stimulated this Easter!
This brilliant treat toy is great for dogs that tend to lose interest in toys quickly. This durable rubber toy will have your dog saying, "What's up, Doc?" for hours as she tried to get all the treats out. It also offers the added bonus of being great for her teeth!
How adorable would your dog look in one of these Easter-perfect bandanas?
These cute scarves will make your pup picture-perfect as she poses with the Easter Bunny! These bandanas come in large or small and in blue, pink, or purple. And we love that they'll look amazing even after Easter has passed.
There's just something that dogs love about Lambchop toys. Luckily, we found an Easter version of a dog-favorite. This toy isn't just cute, it's made to last.
There's no mistaking this toy for anything but an ideal Easter basket stuffer. This plush egg lets your dog join in the fun of the holiday. It has a squeaker and fun colors which dogs think are egg-cellent!
You may love the real marshmallow treats these were modeled after, but your dog will love this three-pack of squeaky toys! These are perfect for dog owners with multiple dogs or even families with a dog and cat combination! Give that basket a pop of color and fun with these candy bunnies.
These rabbit treats are hopping with flavor and nutrition! They're made with sweet potatoes and rabbit which dogs adore! Because they're grain-free and made with real rabbit, they're excellent for dogs with allergies or food sensitives, so every pup can partake in an Easter feast!
With all the fresh flowers blooming, your pup will want a collar as fresh and floral as the season.
These cute and colorful collars come in fashionable patterns with removable flowers to help show-off your pup's springtime style. Purchase a harness, collar, teddy bear, and matching leash for an Easter-coordinated basket and doggo-outfit.
We know you're busy, so we found the best value when it comes to a pre-made doggie Easter basket.
The Just Chill'in basket comes with so many durable toys, your dog won't believe her eyes! It also features a snuggly soft blanket for her to cuddle up in when she's too tired to keep playing.
Let your dog feel the like a very-important-pup with these adorable rabbit ears.
These are perfect for Instagram pictures or for photos worthy of framing. The adjustable drawstring makes them perfect for a wide range of dogs and they stay snug.
Have a happy Easter and take plenty of photos of your dog having a hopping-great time!
This post may be sponsored or contain affiliate links, which means we may receive a small commission, at no cost to you, if you make a purchase through a link.