Dog Supplies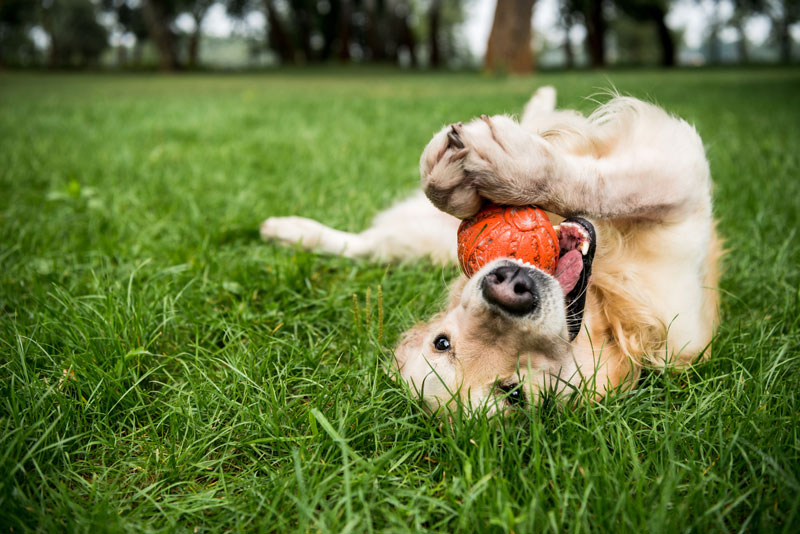 Is there anything more frustrating than purchasing a toy for your dog, only to have it demolished, obliterated, or destroyed hours later? Never mind a peeved pooch, buying toy after toy ultimately becomes a drain on your pocketbook.
Dog toys aren't cheap these days. How then do you make your money last and keep your dog happy and healthy at the same time?
Don't worry! We've compiled a list of the twelve most indestructible dog toys your dog will love. Ready to save money and make your dog happy? Here we go!
Nylabone has been making pet toys since the mid-1950s. From chew toys, chew treatments, dental solutions, and puppy products, Nylabone has everything you need for your favorite pooch. The Nylabone Dura Chew is no exception.
Available in axis bone, S bone, textured bone, textured rain, or smooth ring.
Intended for large dogs.
Nylon dog toy for aggressive chewers.
Flavored and textured, this dog chew toy keeps dogs busy and happy for hours.
Foregoing the visual appeal of neon colors and loud squeakers in their dog toys, Benebone designs their dog toys to take full advantage of your dog's powerful sense of smell. Benebone products are long lasting and jam-packed with real flavor that your pet will love!
Dog friendly design, this wishbone is designed specifically for your dog's mouth.
Flavor is derived from 100% real food ingredients, including real bacon. We all know dogs love bacon!
Benebone is committed to producing all of their products in the USA including packaging, tooling, and all material and ingredient sourcing.
Purchase from a company that gives back. Benebone contributes to multiple community and pet initiatives and charities.
Billed as virtually indestructible and guaranteed for life, Goughnuts dog toys are really quite impressive. You'd be hard-pressed to find another dog toy company that stands behind their product quite like Goughnuts.
Designed by mechanical and polymer engineers, the Goughnuts original dog chew ring is built to last.
Don't worry if this gets in the pool, it floats!
Made in the USA.
If your dog ever chews through the outer layer, Goughnuts will replace your dog toy. Go ahead and buy! It's a no-brainer!
Used by police K-9 units around the world, this functional chew toy is Goughnuts' number one selling product. Like their other dog chew toys, this stick is guaranteed for life.
Large and incredibly strong.
Durable and long-lasting.
Made in the USA.
Guaranteed for life.
Chew King dog toys are made with recommended, thoroughly tested, pet safe materials. With a wide variety of available dog toys, Chew King provides everything you need for your puppy or large breed dog.
Made of natural rubber, these fetch balls are far superior to tennis balls as they retain their shape, bounce well, and hold up to the toughest of chewers.
Comes with safety air vents that protects your pooch.
Stuff dog treats inside, and the fun really begins!
Available in various sizes depending upon the size of your dog.
Designed with an emphasis on safety the Goughnuts tug interactive large dog toy is an incredibly durable toy that will ensure playing time with your dog is safe. Designed for larger dogs, this chew toy will take a licking and keep on ticking.
An interactive toy, this dog toy is fun for pet and owner alike!
Figure 8 design allows for a safe grip while your dog bites down on the other side.
Made in the USA.
Keeps your hands and fingers safely away from your dog's teeth!
Designed for the toughest of chewers, this Kong extreme dog toy is perhaps the definition of indestructible. Made from the company's unique durable, all-natural rubber formula, this dog toy is sure to entertain your pet for hours on end.
Safe and reliable fetch stick.
Good for your pet's teeth and gums.
Made in the USA.
Stuff some of your favorite pet treats inside for additional fun!
Made with proprietary materials, Zogoflex's line of dog toys are ultra-durable, dishwasher safe, and floatable. The jive durable ball dog chew toy is incredibly durable and designed to last.
Fits in a standard ball thrower.
Brightly colored and BPA-free.
Made in the USA and guaranteed to last. Zogoflex's dog toys are also available for recycling. Keep your dog happy and save the environment!
FDA compliant, you could eat off this thing!
Look! It's a ball! It's a stick! It's a bone! No, it's' the Zogoflex Hurley durable dog bone chew toy! One of the company's bestsellers, this is a durable and multifaceted dog toy for both chewing and playing fetch. Spend more time playing with your pooch with this nearly indestructible dog toy.
Floatable, and dishwasher safe.
Made in the USA.
100% manufacturer guarantee against dog damage.
BPA free, non-toxic, and FDA compliant.
Designed to naturally fit the curvature of your dog's mouth, the bionic bone durable tough fetch and chew toy is designed to withstand the toughest of chewers. Made with proprietary rubber material, you can be sure your dog will enjoy playing with this bionic ball day in and day out.
Lead and BPA free.
Two pockets perfect for hiding your dog's favorite treats.
Ridges and textures ensure your dog will love to chew on this bone.
Dishwasher safe and brightly colored, this bone is easy to clean and see!
The only Frisbees make our list, the Zogoflex zisc tough flying disc is both incredibly durable and soft on your dog's jaw. Brightly colored, so it's easy to find, it even floats, which means you can use it in water as well.
Available in two different sizes depending on the size of your dog.
Incredibly soft for your dog's mouth but flies straight and true like a regular frisbee.
Made in the USA.
Safe, BPA free, non-toxic, FDA compliant, and 100% guaranteed against dog damage.
Perhaps the most natural toy on our list, the devil dog organic wild elk antler dog chews are a nearly indestructible dog toy. All natural and synthetic free, these dog chews are perfect for the environmentalist at heart.
Available in multiple sizes for every type of dog.
Long-lasting, these antlers will keep your dog busy for hours on end.
Unlike rawhide, bully sticks, and pig ears, these dog chews are organic, all-natural, and odorless.
Save a dog! Devil dog chews contribute a percentage of every sale and make donations to rescue shelters!
Conclusion
As you can see, there are plenty of indestructible dog toys available today. Depending on your dog's size, weight, and chewing habits, there has never been a better time to find an indestructible dog toy for your pooch! Happy choosing… and chewing!
This post may be sponsored or contain affiliate links, which means we may receive a small commission, at no cost to you, if you make a purchase through a link.