Dog Supplies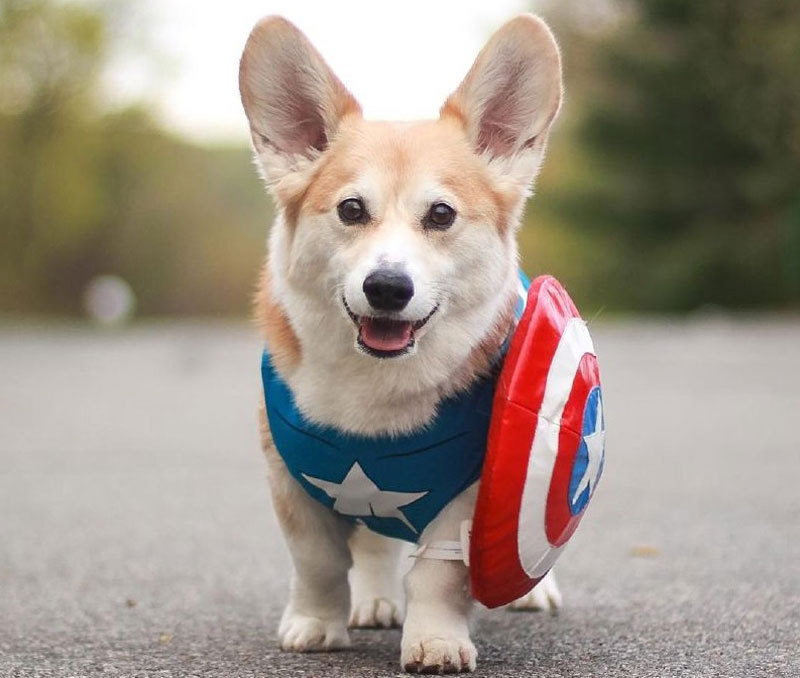 Your dog is without a doubt the best superhero (or villain) in the universe –no bias here, and they deserve the swag to show it off.
Whether your dog is the God of Thunder, a mad titan like Thanos, or a Guardian of the Galaxy, they're a key player in the Marvel Universe.
Treat your furry family member to one of these 15 cool Marvel dog accessories and let them know you love them 3000.
Marvel Dog Collars
A collar is the easiest way to show off some serious, Tony Stark like style. From the friendly neighborhood pup to the hulk-like guard dog, these collars are all awesome Marvel dog accessories your furry best friend will love.
1. Retro Seatbelt Marvel Comic
Avengers Assemble!! Nothing beats the classics and this Marvel comic strip collar with a metal buckle has it all. The buckle isn't too bulky, but is adds a special detail that most basic buckle collars don't have. This style can work great for any size Avenger pup from Hulk to Ant-man.
2. Avengers Buckle Down Collar
Looking for a more classic, plastic buckle? This Avenger collar has the four main men of Avengers (sorry Spidey) and comes in the same size options for all dogs. With a nylon fabric, it's strong and durable for all of the adventures you and your pup go on.
3. Captain America Dog Collar
"I can do this all day" is how your dog feels as he runs lap after lap around the house or around his favorite park. The Captain America in him shines through and this collar screams "I'm invincible". This is another great seatbelt-style buckle with various size options.
4. Guardians of The Galaxy Collar
Is your dog adorable like Groot? Goofy like Quil? Tough like Rocket? Strong on the outside, but a softy like Drax? No matter what Guardian they're like, this collar pays tribute to the charming, yet strange group of galaxy defenders we've all grown to love.
5. Avenger Icon Collar
"We have a Hulk" – and a shield, mythical hammer, programmed armored suit and so much more. No need to pick just one of your favorites for your dog collar. Show off all the love for your favorite Avengers.
6. Custom Avengers Logo Dog Tag
Not only can you customize this dog tag for your pup, but it has almost any superhero you could possibly want on it. Look closely and you can see She-Hulk and other Marvel heroes who haven't made it to the MCU. A must-have for a comic lover.
Marvel Dog Leashes
As any dog-owner knows, a leash is a necessary dog accessory. Never get that "Dude, you're embarrassing me in front of the wizards" feeling again with these amazing Marvel designs that will have your dog looking like a true hero. Whether you're looking for a short leash or one on the longer side, these leashes come with a great variety of options.
7. Avengers Leash
It's pretty much endgame with this one if Avengers are your go-to superheroes of choice. Spidey joins Iron Man, Thor, Hulk and Captain America for a vibrant and fun leash design! This style comes with stainless steel hardware and high-density nylon to withstand rain or shine for years to come.
8. Villain and Hero
Loki may have almost taken down NYC, but the God of Mischief found his way into our hearts. Without the villains of Marvel, there really wouldn't be a need for our heroes. This belt shows Hulk, Iron Man, Captain America and Thor facing their biggest rivals from the Marvel comics.
9. Guardians of The Galaxy Leash
"We are Groot" and it's safe to say that Groot steals the thunder on this leash design. Fair enough since he was the one who saved Thor, literally became the Stormbreaker, and gave us one of the best fight scenes in MCU during Infinity War.
10. The Amazing Spiderman 100th Anniversary Issue
Your spidey senses may be tingling because this leash celebrates the iconic 100th Issue of The Amazing Spiderman. Your pup will look ready to defend his neighborhood with this awesome Marvel dog accessory.
Marvel Dog Toys
Every superhero deserves a reward after a long day of crime fighting and saving the world. The same goes for your energetic canine friend. From pull toys to stuffed animals, your dog will have endless fun with these Marvel themed toys.
11. Avengers Pull Toys
Pull toys will help your hero pup build their strength and get all that energy out. With Captain America, Iron Man, Spiderman, and Hulk options, they'll have fun pulling you around the house or outside in the yard. This toy comes with a special pocket to keep a treat for after play time!
12. Thanos Plushy
It took the Avengers quite some time to figure out how to take down Thanos and the Infinity Stones. But, your superhero pup will have no problem tossing this villain around and showing him whose boss.
13. "I am Groot" Pull Toy
With two ways to play and a squeaky feature, your dog will get endless hours of play with these fun pull toy designs. Groot and Rocket are a must for the fans who love the galaxy defenders.
14. Iron Man Pull Toy
Made of canvas and rope, this Iron Man pull toy is a great option for playing fetch or tug of war with your pup.
15. Captain America Pull Toy
"I keep telling everybody they should move on. Some do. But not us." and neither will your pup when he realizes how much fun he's having with his Cap inspired pull toy.
Check out the full Marvel Store for dogs.
The superheroes of Marvel have made us laugh and they've made us cry and sometimes that's exactly how our furry heroes make us feel. These Marvel dog accessories are a great way to show off your love for the people who save the universe again and again. Why let your dog be basic when you know just how heroic they are? Raise your hand if your dog saves your life everyday
In the words of Nick Fury, "I still believe in heroes".
This post may be sponsored or contain affiliate links, which means we may receive a small commission, at no cost to you, if you make a purchase through a link.