Whether you're battling the dark side with the forces of good, or planning galactic domination with the Empire, you and your pup should always show your best side.
These unique Star Wars dog accessories will showcase your incredible sense of style and taste in media, whether you're off to destroy the Death Star, or taking a quick trip to the dog park.
1. Come to the Bark Side Bandana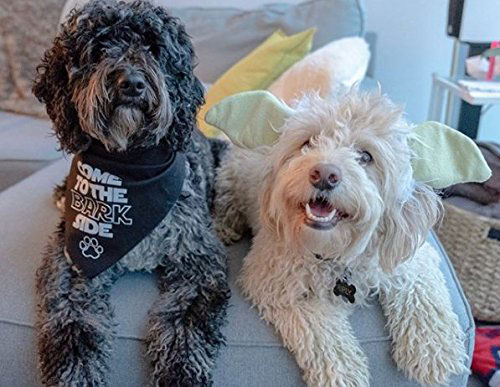 Will you choose the light or the dark? The meow or the bark? Signal your choice with these adorable FunDog Bandanas that reads "Come to the Bark Side", a perfect gift for any Star Wars-loving pup.
Luke may insist he'll never turn to the dark side, but no amount of will can resist the cuteness of the bark side, not even the most powerful jedi. Your mind tricks may not work on me, but those big ole puppy eyes sure do.
2. Star Wars Ewok Dog Costume
Small, adorable, and terrifying – there's a good chance your pup is already a fierce teddy-bear, but this Ewok costume from Rubie's will seal the deal. Just don't get caught sleeping! A slobbery kiss might not be as bad as a jab from a spear, but they'll both wake you up with no trouble.
Keep the peace with your fiercest of friends (preferably with a tasty snack), and you'll have an ally for life, ready to defend you from enemies of all kinds. Being small and furry in no way lessens the ferocity of your pup – just like an Ewok.
3. Star Wars Jedi Robe Dog Costume
May the Force be with you always, and with your furry friends as well. They have the power of mind control down already, and can compel you to give them all the scratches and treats in the world with just one look in those big puppy eyes.
So it's only fitting that you complete your pup's Jedi training with this Jedi costume from Rubie's. And we know that Jedis can come in all shapes and sizes, so this costume too comes in four different sizes. You can get one for every pup in your life, and soon the Jedi order will thrive once more.
4. Chewbacca Dog Hoodie
It's definitely not wise to upset a Wookiee, so make your pup the best-dressed fella on the Millenium Falcon with this Chewbacca hoodie costume.
Chewy might be a big guy, but this costume comes in all sizes – and we all know it's the size of the heart that counts.
Complete with Chewy's signature bandolier, this adorable little hoodie will bring out the best – and the beast – in your fuzzy friends. Just don't challenge your pup to a game of chess (or chase), unless you're prepared to let the Wookiee win.
5. Darth Vader Dog Costume
There will be no more resisting the dark side once your beloved pup dons this Darth Vader costume. Your pup will transform instantly from a scruffy-looking nerf herder, to the most powerful leader of the dark side. Don't fail to bring him his treats and pamper him with belly scratches, and you might find yourself with a powerful ally – even if he is a little evil.
6. Best Dog in the Galaxy Dog Bandana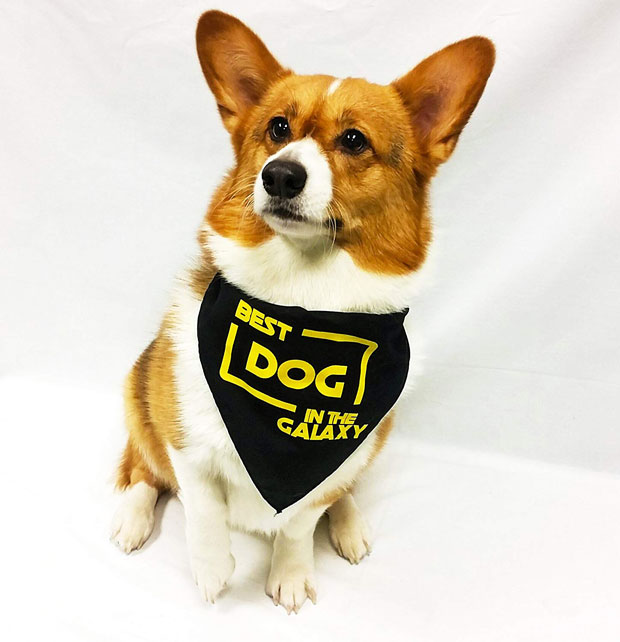 You love your pup like Han Solo loves the Millenium Falcon, and you're not afraid to show it. If you don't think so, well, I find your lack of faith…disturbing. Show the world where your loyalties lie with this adorable "Best Dog in the Galaxy" bandana, the perfect dog accessory that tells nothing but the truth.
7. First Order BB Unit Rope Ball
You won't find your dog without his trusty droid, at least once you get him or her this BB Unit rope toy. Sturdy enough to withstand the deserts of Jakku, or the teeth of the most ferocious beast.
Like BB-8, this toy communicates with beeps (or squeaks, really), which might seem like nonsense to you and me, but that will surely be a blast for your pup. As an added bonus, this BB unit is programmed to gently clean your dog's teeth while he chews, with a built-in rope section to clear out all that plaque build-up.
8. Star Wars Custom Pet Id Tag
Don't let identity confusion get in the way of your great love story. Make sure your dog always finds his way back to you, even from across the galaxy, without sacrificing style.
These personalized Star Wars-themed dog tags ensure that your best friend won't be wandering lost in the galaxy, even if you get separated in intergalactic combat. With custom space for your pup's name and your phone number, this tag will enable anyone to call you up and reconnect you with your partner, no droid messages necessary.
9. Star Wars 2-Sided Pet Id Dog Tag (Kylo Ren)
Another option for making sure your pup is always able to find his or her way back to you, even from the clutches of the Empire, these up-to-date Star Wars dog tags are stylish and customizable, so you can showcase your best friend's personality and rest easy knowing that he or she will always find home.
Adventures await in the great beyond, but after every long adventure, nothing sounds as good as being able to say "Chewy, we're home", whether you're coming back from the dog park, or returning from a harrowing battle in the skies.
10. Paw Wars Bandana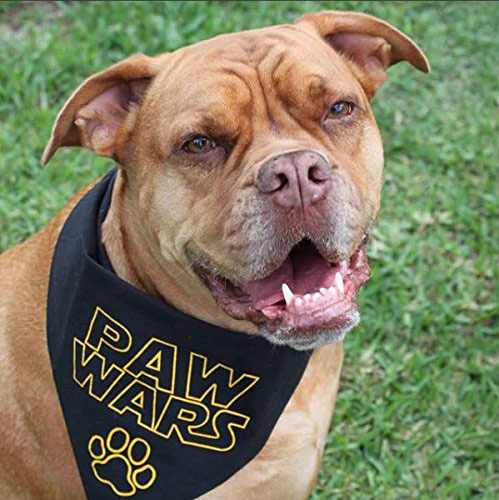 We all love Star Wars (otherwise you wouldn't be here…right?), but nothing beats Paw Wars. This punny bandana showcases your two greatest loves in one adorable accessory, and your pup will be the most stylish in the galaxy – not some stuck-up, half-witted, scruffy looking nerf herder.
This bandana comes in two sizes, so you can get one for your Ewok-sized pocket pup, or your most imposing Wookiee. In the battle against evil, size matters not.
11. Darth Vader Bandana
Embrace the dark side with this adorable padded Darth Vader bandana. Give in to temptation and let your power loose – the neighborhood cats won't stand a chance against Darth Pup, armed with the power of the dark side of the Force, and backed by the whole of the Empire.
Make sure your pup is the most stylish on the Death Star, and his or her leadership will ensure the end of the rebel forces. Just don't forget the treats.
12. Dark Side Dog Collar
Fully embrace the dark side every day with this First Order-themed adjustable dog collar. The dark side of the force will be with you – and your pup – every minute of every day when he or she is properly accessorized, leaving the rebel forces to hide and cower under the great power of your furry overlord.
This collar also features a sturdy D-ring for attaching a matching Star Wars-themed leash, and your favorite customized Star Wars dog tag.
13. Star Wars Dog Collar
If you're sworn to battle the forces of evil and resist the dark side, this classic Star Wars collar might be the pick for you and your pup.
Make sure your furry friend never strays too far by attaching a leash and ID tag (preferably Star Wars-themed, of course), and you and your partner are ready to traverse the galaxy, whether you're taking the Millenium Falcon to bolster the rebel forces in the battle against evil, or hopping in your Toyota for a romp at the dog park.
14. Chewbacca Stainless Steel Dog Bowl
It's an elegant food bowl, from a more civilized time – and it will make even the most ferocious eaters more civilized at the dinner table (or, rather, bowl). Take this Chew-bacca bowl literally and make dinner time more fun for everyone.
Just don't get in between Chewy and his chow! You might be the good guys, but that doesn't mean you're soft. Wookiees and dogs gotta eat, and this stainless steel bowl holds enough food for even the biggest furry friends to fill up in preparation for lightspeed travel – whether you're headed to the dog park or the Death Star.
15. Yoda Dog Bed
When it comes to dog naps, you do, or do not – there is no "try". This Yoda bed will give your dog the comfort of a deep sleep, no tossing and turning and circling and "trying".
After a long day battling the Empire and saving lives, there's no room for bad feelings, about this or anything. Let your fuzzy friend recharge in style after long days zooming around as fast as the Millenium Falcon, burning up fuel and tiring him or herself out. Time to catch a few zzzs and get ready for the next mission.
This post may be sponsored or contain affiliate links, which means we may receive a small commission, at no cost to you, if you make a purchase through a link.