Dog Supplies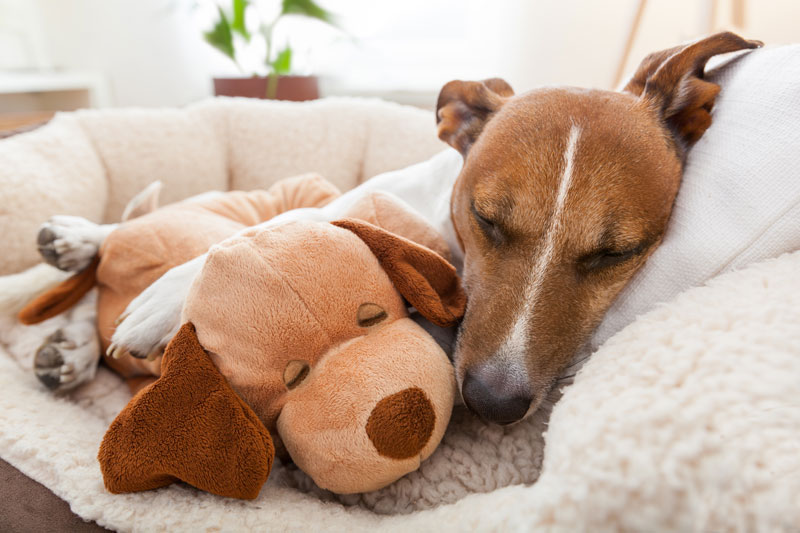 From Chihuahuas to Pugs, our most petite pooches deserve to be pampered and rest soundly. Finding the right bed for your pup will do just that! This means finding the right size, shape, and material where your best friend can rest.
While you may see your bed as a place to fall asleep after a long day, dogs view their beds as a place to sleep but also as their own personal space. A good dog bed will become your dog's favorite place in your home, and provide him or her with a private space to relax.
Our dogs spend 10 to 16 hours per day sleeping, and puppies sleep even more than that! So, they need a comfy place to make the most of their naps and bedtime.
When choosing the right bed for your small breed dog you will want to consider:
Size
When selecting a bed, it's important to know what size your tiny dog actually is. While most owners can approximate, the last thing you want to do is purchase a bed that's too big or small. So, measure your pup his from head to the base of his tail if he's a sprawler. If you have a curler, measure your dog while he's sleeping.
Your dog's bed should fit his whole body and still be snug.
Sleeping Style
A Tight Curler: If your dog curls into a compact little ball, you will want a bed with high walls to keep him feeling cozy as he naps.
The Sprawler: Most small breed dogs tend to curl up, but there are some like French Bulldogs and Beagles that wind up in Superman position or spread out as far as their legs will reach. For these dogs, we suggest a bed that isn't completely closed in with walls. A chaise lounge or mattress style bed would work best.
Washability
Whether you have a puppy or a senior pup that has trouble holding it, you will want to find a bed that has a waterproof bottom and is machine washable.
If you have a dog that loves to roll in the mud or sheds a lot, a machine washable cover will make your life easier and your home smell fresher.
Durability
When your dog is ready to lie down, does he dig? Or do you have a puppy that seems to shred and destroy anything that appears in his path? Then you will want a thicker fabric or one that is chew-proof.
Comfort for Older Pups
Small dogs sometimes need a helping hand getting in and out of a bed. If your dog has joint issues or arthritis, you will want a lower bed with quality padding. Most experts agree that memory foam is best for senior pups.
So, what beds do small dogs and their owners live by?
Here are our top picks for your small canine companion:
This bed truly is a deep dish! It will snuggle your pup deep into its cushion to provide amazing rest, comfort, and a sense of security. The standard size is great for small breed and it comes in sixteen color options!
Pros
Cons

Machine washable
Great for dogs with arthritis

Super Cozy
This bed is a great choice for curlers! It has a rubber non-slip bottom and walls that aren't too high for older dogs. It's made from antibacterial memory foam and the cover is waterproof!
The small is 27" by 20" and the medium is great for slightly larger small breeds like Frenchies at 32" by 22". And this awesome bed is tear-resistant.
Pros
Cons

Machine washable cover
Memory foam and padding for extra comfort
Non-slip bottom

Not the best for dogs that dig before lying down
This mattress style bed is perfect for tiny tike pups! It comes in a variety of sizes from 11" by 17" to 52" by 34" (which could fit a mother and her puppies). This shredded memory foam dog bed will support your dog's weight, and its versatile shape works for crates or as a regular bed.
Pros
Cons

Orthopedic memory foam
Easy for older dogs to climb on and off
Machine washable cover

Bottom is not water-proof
This donut cuddler is excellent for dogs that switch sleep positions through the night. It comes in the perfect size for small breeds: 23" by 23", and the shag faux fur will keep your dog warm and cozy on chilly nights.
Pros
Cons

The depth helps relieve joint pain and allow dogs deeper sleep
Machine washable cover
Your dog will love having his or her own sofa. The low front makes this bed easy to get in and out of, and the walls provide comfort and structure for curlers, but enough space for sprawlers.
Pros
Cons

Water-resistant
Tear-resistant
Machine washable cover

Has that classic "memory foam smell" at first
This affordable option is a great go-to for dogs that steal their cat sibling's bed. This bed measures 20 by 20 and features a flannel top that is soft and durable.
Pros
Cons

Affordable
Comfy
Machine washable
Durable

Not chew-proof
Not waterproof
Must be air dried after washing
Does your dog love to cuddle under the blankets? This adorable bed will give him that snuggled-up sensation without the threat of getting tangled. This bed comes in 8 great colors and is perfect for tiny dogs. The top is super soft microvelvet, and the base is orthopedic foam!
Pros
Cons

Easy on your dog's joints
Machine washable cover
Super soft and cozy design

Not the best for chewers or diggers
If your pup runs warm or you live in a humid climate, this cot-style bed is a great option. The elevated mesh is extremely breathable, and the frame is easy to assemble and durable.
Pros
Cons

Waterproof
Removable bolsters
Durable
If you are still looking for a dog bed, check out our dog shop or 10 Dog Beds Your Pup Will Love in 2019.
This post may be sponsored or contain affiliate links, which means we may receive a small commission, at no cost to you, if you make a purchase through a link.