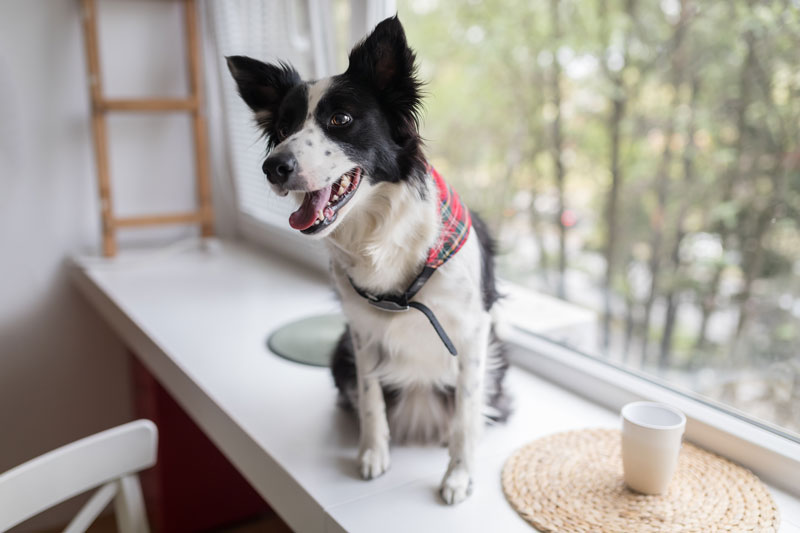 What is CBD Oil
Cannabidiol (CBD Oil) is one of 113 identified cannabinoids in known cannabis plants. The cannabis plant extract is made up of 40% Cannabidiol.
CBD Oil contains no THC content and therefore does not activate psychoactive effects within the brain.
This oil is becoming a popular way to treat conditions such as depression, anxiety, cognitive and movement-hindering disorders, and general pain. It is believed to treat epilepsy in humans, but studies have not fully confirmed this fact.
Myths about CBD Oil
MYTH: CBD Oil Will Get Your Dog High
CBD Oil does not contain THC, the primary activator of psychoactive effects of the brain. However, I find it funny that we have no problem feeding cats catnip. It's funny when our cats are high, but not our dogs. Remember, high cats get more views on YouTube.
MYTH: CBD Oil is Illegal
This is incorrect. CBD Oil is legal, but not regulated. The oil is legal in all 50 states because it is actually derived from the hemp plant, NOT the marijuana plant, when used for dogs.
Though some CBD Oil does come from the marijuana plant, the strain used for animals in non-psychoactive completely legal.
Because the production of these oils is not regulated, if you choose to use CBD Oil as a treatment method for your dog, be sure to buy from a reputable source.
Not only may you be wasting money on fake oil, but not doing your research, as with any medical treatment option, can endanger your dog's life. Be sure to ask around and read plenty of reviews to get an idea of the best brand of CBD Oil to use for your dog. When in doubt: always consult your vet!
MYTH: CBD is Completely Safe
Like all treatment options, CBD Oil is not completely full proof. Just because it is natural does not mean it cannot do harm. Allergies, hidden health conditions, and too few studies of this healing method should all be taken into consideration before using this product.
The Benefits of CBD Oil for Dogs
If you are set on using CBD Oil as a treatment method for your dog's ailments, you can take comfort in knowing that:
CBD Oil is an Effective Treatment for Anxiety
One big issue for dog owners is separation anxiety. Luckily, CBD Oil has been extensively studied to treat this issue.
The natural, calming effects work from inside the brain to calm your pup. If you are a fan of natural calming methods, I recommend taking a look at our article about how to use essential oils and aromatherapy for dogs
.
CBD Oil is Proven to Reduce Bodily Pains and Inflammatory Pain
Dogs have amazing and resilient bodies that can take a lot of roughhousing in their puppyhood and adolescence, but our older canine pals aren't so lucky.
Arthritis is the most commonly diagnosed condition in dogs with long spines and the larger breeds. CBD Oil has shown results of relieving pain and relaxing muscles. Your puppy would appreciate a natural method of relaxing and soothing pain rather than the chemicals in injections and pills.
CBD Oil Can Treat Epilepsy
It is always a scary situation when our beloved pets collapse into a fit of twitching. Pet seizures are a common neurological disorder that CBD Oil has shown potential to treat and reduce the frequency of seizures.
Serenity Hemp Oil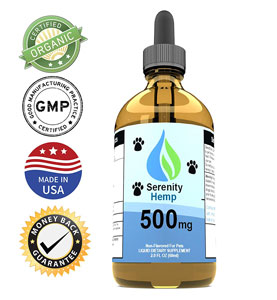 Provides a natural calming effect which may help relieve stress, separation anxiety, and anxiety related conditions. Hemp extract also has powerful anti-inflammatory properties, which have shown to help relieve joint pain and achieve more mobility, agility and energy.
How to Use CBD Oil for your dog
There's multiple ways of treating your dog with CBD Oil. The most common applications include:
Mixing the oil in with their favorite treat/ meat/ peanut butter
Add it to their daily food portions
Directly drip down the throat
Spray on the inner cheek with a spray applicator
Buy the oil in supplement form
Save 25% on Your First CBD Order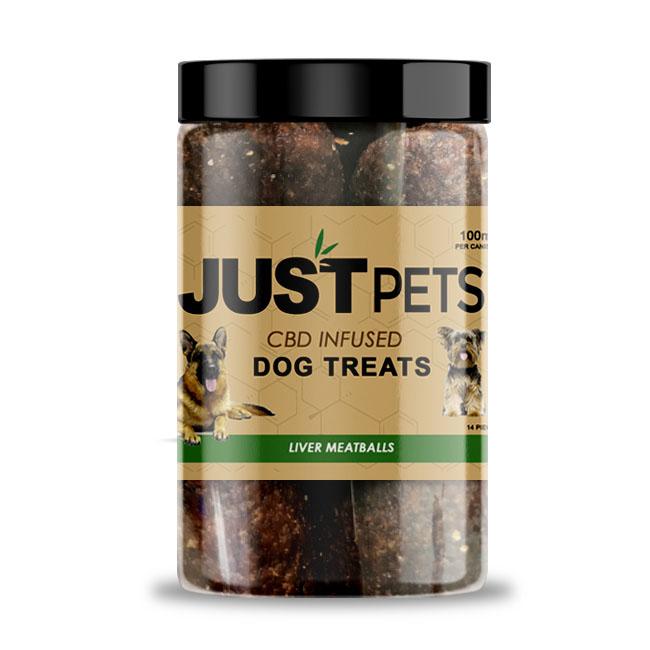 Get 25% off all orders at JustCBD with this code: lovecbd
As with any natural or practical healing method, be sure to consult your vet before treating any animal with products such as CBD Oil that do not have extensive research to support them.
If it works for your dog, that's great! But remember that it may not be for every dog.
If you prefer ONLY natural healing methods, consider consulting with a holistic veterinarian who has a lot of experience working with natural medicines.
This post may be sponsored or contain affiliate links, which means we may receive a small commission, at no cost to you, if you make a purchase through a link.