Dog Supplies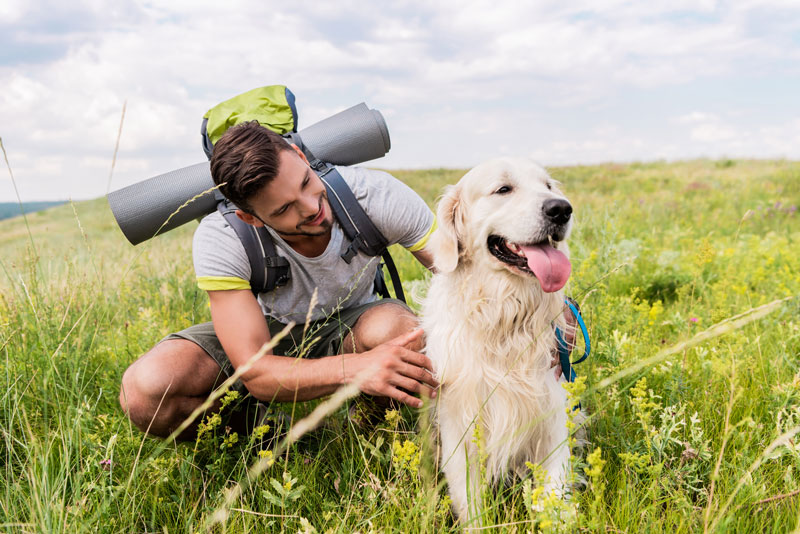 Do you love to take your dog with you everywhere you go? We do too!
There's nothing like running around in the sand at the beach or tossing a frisbee in the park with your best canine companion. But what if you are a bit of a more adventurous, outdoorsy type? Can you take your dog with you on your nature adventures as well?
Of course, you can!
With the proliferation of some incredible dog hiking gear products, it's never been easier to take your furry best friend on some amazing hikes. But what kind of dog hiking gear do you need? What's the best dog travel bag? What's the best portable dog water bowl for hiking? Is there a perfect dog hiking leash for your adventures? What is the best treat for my dog when we go hiking?
Take a look at our buyer's guide for the best dog hiking gear and make sure your pooch has everything they need!
Ditch the reusable grocery bags and ratty old bags you have laying around in your garage and make sure your all of dog hiking gear travels in style! This Hilike pet travel bag is the perfect travel bag for dogs of all sizes. Keep all of your dog hiking gear organized and easily accessible to make hiking with your dog a breeze.
The PAWesome Benefits
Waterproof with a comfortable and adjustable padded shoulder strap.
Comes complete with two food-grade silicone folding bowls for food and water during your hike.
Multiple pockets mean you can easily carry food, water, treats, leashes, toys… everything your dog could ever need!
Feel free to share a drink with your pooch during your next hike with this Flexzion portable pet water bottle. Both you and your dog can drink from the same bottle with the built-in, patented dog water holder. This means you'll have one less thing to carry on your hike!
The PAWesome Benefits
Compact and portable, foldable and spill proof.
Extremely light weight, easily hang this on your hiking gear with the included buckle.
Incredibly easy-to-use, hold the bottle with one hand, squeeze, and you have instant water on demand for your dog. Or… you!
Looking for the ultimate leash to take your dog hiking with? Look no further than SparklyPets hands-free dog leash. Choose either the hands-free or hands-on option for ultimate control over your dog during your hike. You can kiss getting tugged all over the trail goodbye!
The PAWesome Benefits
Made of the weather resistant nylon for ultimate durability.
Elastic bungee absorbs pulls and your dog's changes in direction.
Reflective stitching keeps both you and your dog safe during those late-night hikes.
Alfie may have very well made the best collapsible dog bowl for hiking with your dog. Designed with portability in mind, this collapsible dog bowl easily fits into your hiking bag, backpack, or pocket.
The PAWesome Benefits
Cleans easily and dries fast, which means you won't get water all over the rest of your dog hiking gear.
Rugged nylon construction and waterproof liner make for an exceptional collapsible dog bowl.
FDA approved and designed in the USA.
With a focus on providing everything your dog deserves, 2PET not only designs and builds high quality dog hiking equipment, but also dedicates a portion of each sale to helping pets in need. Their dog backpack for hiking is incredibly durable, replete with pockets, and comes in a wide variety of colors and sizes.
The PAWesome Benefits
Features a soft, adjustable one-click harness for that perfect fit every time.
Comes with two removable saddles for ultimate storage options.
Zippered mesh pockets and water bottle holders allow you to bring everything you'll need for your hike.
My Busy Dog's mission is to create quality dog products designed to keep your dog comfortable and safe. Protect against paw burns and injuries with these water-resistant dog shoes! All other dogs will be envious of your dog's sweet hiking kicks!
The PAWesome Benefits
Waterproof anti-slip sole provides your dog with stability and traction, even on the toughest hikes.
Superior, sewn-together construction (as opposed to glued) ensures a high-quality dog shoe that will last.
Water resistant top sole will keep your dog's paws dry and warm.
Earth Rated demonstrates their commitment to your dog's well-being by providing some of the highest quality dog poop bags available. Looking to get back to the dog community, the company donates annually to help out animals in need. Have no doubt, your dog will need to go during your next hike. Be prepared with these amazing dog poop bags!
The PAWesome Benefits
100% leakproof guarantee.
Odor blocking lavender scent keeps the bad smell "in" and the good smell "out".
Protect the environment with recycled materials in both packaging and role cores.
Do you get hungry on hikes? Well, so does your dog! Don't forget to bring yummy treats to keep your puppy happy and energized during your hike. What better treat to bring them Pup-Peroni dog snacks.
The PAWesome Benefits
90% fat free dog treats your dog will love!
Available in mouthwatering flavors like bacon, beef, oven roasted chicken, fillet mignon and bacon, and prime rib. Your dog won't be able to choose its favorite.
Made of tender, easy to break into small pieces, these are the perfect treats for an on-the-go hike.
Conclusion
As you can see, there are plenty of amazing dog hiking gear products available to make the most out of your next hike with your puppy. From dog bags to leashes, water bowls to harnesses, find everything you need with our buyer's guide for best dog hiking gear.
Keep your dog safe, watered, fed, and especially, happy during your next adventure with the best dog hiking gear around! Happy choosing, and happy hiking!
This post may be sponsored or contain affiliate links, which means we may receive a small commission, at no cost to you, if you make a purchase through a link.